By Gary Holland
There is a famous saying that one man's rubbish is another man's treasure. Therefore this post begins with the author in South Shields market sometime around the year 2002. I often used to go to the market on a Friday afternoon which was partly a flea market with house clearances, used goods etc, getting the ferry across from my home near North Shields. At that time I was trying to buy some second hand household things for my flat. Looking for some pictures to go on the wall, I found one of several stalls which had a cardboard box containing a stack of old pictures and paintings. While looking through, one of them caught my eye. It was very small but I could see the unmistakable glint of gold.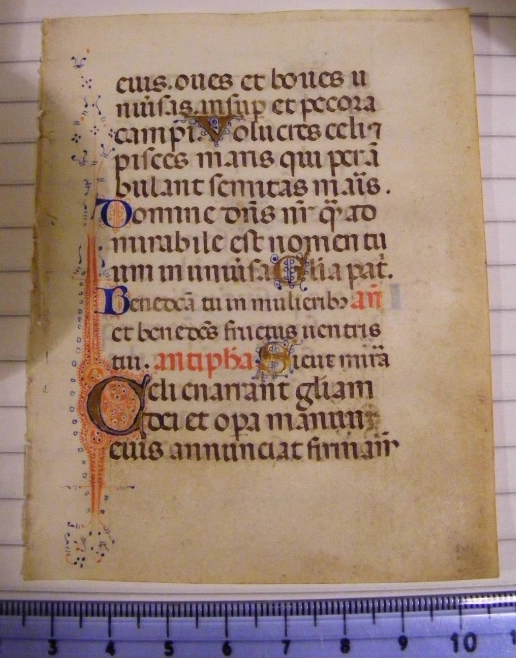 The picture frame was makeshift, with glass on both sides and was somewhat damaged. I could see that the picture was in Latin and very colourful with gold leaf lettering. At the time I assumed that this was Victorian; it looked interesting so I bought it and put it in my rucksack, not thinking much of it. I can't recall the price but at the time most of the house clearances were selling items for around 30p each so I am very certain that this item cost me no more than one pound – although I hope you will appreciate that this post is not about the monetary value.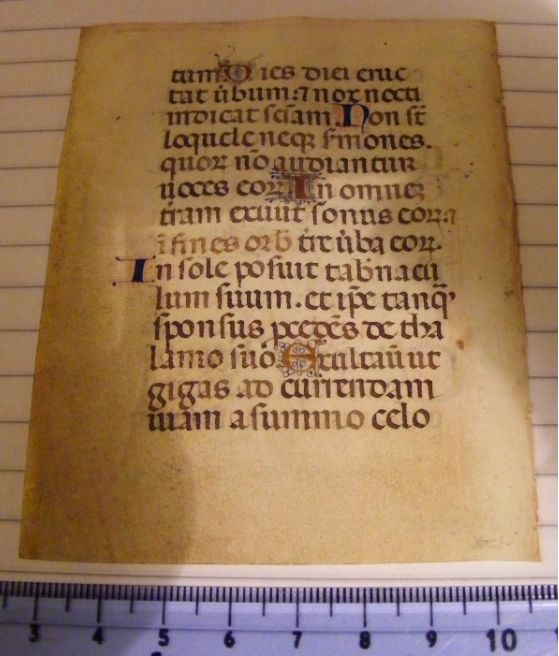 To continue, I knew that the frame needed to be repaired but at the time I didn't have the time or money and so it sat gathering dust, forgotten about in a cupboard for several years while I got on with my life. It wasn't until 2010 that I somewhat re-discovered the picture at home and got round to doing some research. I soon realised that it was probably older than Victorian but I wasn't sure when or where it came from, however, I was fairly sure that it was a religious book of some sort. From there I took some photographs and emailed them to the British Library to ask for some advice. Those photos from 2010 and condition of the frame 'as found' can be seen below.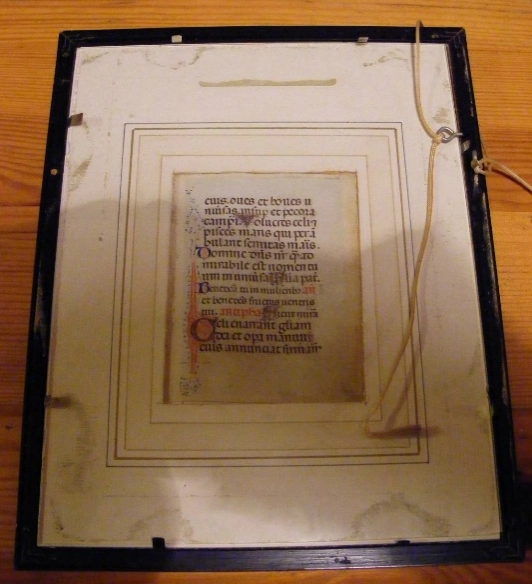 Not long after I received an exciting reply:
Thank you for sending us the pictures of the manuscript fragment in your possession. What you have is clearly part of a medieval liturgical book, used in saying the Mass. To judge by the script, I should suggest that it was made not in England but somewhere in western Europe, e.g. France, and that it most likely dates from the 13th or early 14th centuries.

Best wishes,

Julian Harrison

Curator of Medieval and Earlier Manuscripts
Honorary Research Fellow, University of Glasgow

The British Library

[https://twitter.com/julianpharrison]
Content of the Text
It appears that the leaf is from Psalms 8 and 18 in the Latin Vulgate Bible, with the medieval version of the Hail Mary, consisting of just two lines, plus another line, sandwiched between them. Some words are abbreviated with apostrophes. The 14 lines read as follows:
The Latin Vulgate

[Psalm 8]
8. … eius, oves et boves universas, insuper et pecora campi
9. volucres caeli et pisces maris qui perambulant semitas maris
10. Domine Dominus noster quam admirabile est nomen tuum in universa terra

[Hail Mary]
Benedicta tu in mulieribus
et benedictus fructus ventris tui

[Unknown line]
Antpha Sicut mirabilis

[Psalm 18]
2. caeli enarrant gloriam Dei, et opera manuum ejus adnuntiat firmamentum
3. dies diei eructat verbum, et nox nocti indicat scientiam
4. non sunt loquellae, neque sermones, quorum non audiantur voces eorum
5. in omnem terram exivit sonus eorum, et in fines orbis terrae verba eorum
6. in sole posuit tabernaculum suum; et ipse tamquam sponsus procedens de thalamo suo
exsultavit ut gigans ad currendam viam suam;
7. a summo caeli … [text ends]
This translates as:
Douay-Rheims Bible (1752)

[Psalm 8]
8. … his …, all sheep and oxen: moreover, the beasts also of the fields.
9. The birds of the air, and the fishes of the sea, that pass through the paths of the sea.
10. O Lord, our Lord, how admirable is thy name in the whole earth!

[Hail Mary]
Blessed art thou among women,
And blessed is the fruit of thy womb.

[Unknown line]
[???] As wonderful

[Psalm 18]
2. The heavens shew forth the glory of God, and the firmament declareth the work of his hands.
3. Day to day uttereth speech, and night to night sheweth knowledge.
4. There are no speeches nor languages, where their voices are not heard.
5. Their sound hath gone forth into all the earth: and their words unto the ends of the world.
6. He hath set his tabernacle in the sun: and he as a bridegroom coming out of his bridechamber, Hath rejoiced as a giant to run the way:
7. His going out is from the end of heaven, [text ends]
NB: The word 'antpha' highlighted in red in the document is a mystery and has an apostrophe above the 'h' indicating a longer word. It may be a form of 'Amen' such as the French translation Ainsi soit-il. Any suggestions are appreciated here.
Craftsmanship
The method and work of creating such a piece is staggering to consider. Take the leaf itself – a single page from a book; made from vellum it began as part of an animal, likely a calf but also possibly a sheep, goat or deer. The word vellum is derived from the latin vitulinum 'made from calf'. The animals pelt would have been soaked in water and lime to loosen and remove the fur, leaving a skin which was smoother on one side and more rough on the other where the hair follicles remain. Once the skin is cleared of fur it is allowed to dry flat into a sheet and finally cut into pages.
The lettering was written using a quill. The feather (latin – penna) used to make a quill was taken from the wings of large birds such as geese or swans. The entire length of the feather was not used and they were trimmed down since it was not the length but the internal size of the 'barrel' that was important for holding a reasonable amount of ink. A pen nib shape was then cut into the barrel of the feather using a delicately shaped knife with a subtle curved blade – a 'pen knife'. Believe it or not but there were left and right handed quills! A right handed person would use a feather from the left wing of a bird and a left handed person using a feather from the right sided wing.
The black ink was typically made from a mixture of soot, iron salts or tannic acid from oak trees mixed with water and gum. Coloured ink pigments were obtained from minerals such as lapis lazuli (blue), cinnabar (red). The gold leaf – pure gold, beaten until it is as thin as tissue was applied onto the desired lettering which had been pre-prepared with a type of adhesive.
Provenance
Some questions can obviously be asked about this fascinating document. For example how did it come to be in South Shields, who used this and who was the scribe who created it? Was it created in France and found its way to Tyneside as part of a monastic exchange? Or was it brought here in a removal van in 1976, in a box of someone's belongings…..! We will likely never know. What we do know is that South Shields has an ancient history stretching back probably around 3000 years or more. The Romans of course had Arbeia fort on the Lawe Top and later the Saxons occupied the site which was to become known as Caer Urfa. We know there was a Saxon chapel, consecrated circa AD647 on the site of St Hildas in South Shields and of course the most famous of them all, the Venerable Bede, at St. Paul's Monastery in Jarrow.
In the middle ages when this document was created, South Shields was likely a simple town when compared to the much larger city of Newcastle up the river. However with the building of Durham Cathedral, St Nicholas' Church and Blackfriars in Newcastle, as well as Tynemouth Priory across the water and many other churches locally, there was certainly a large ecclesiastical network in the area. From the 13th century, around the time this page was produced, St Mary's Chapel in Jesmond was also a major place of pilgrimage.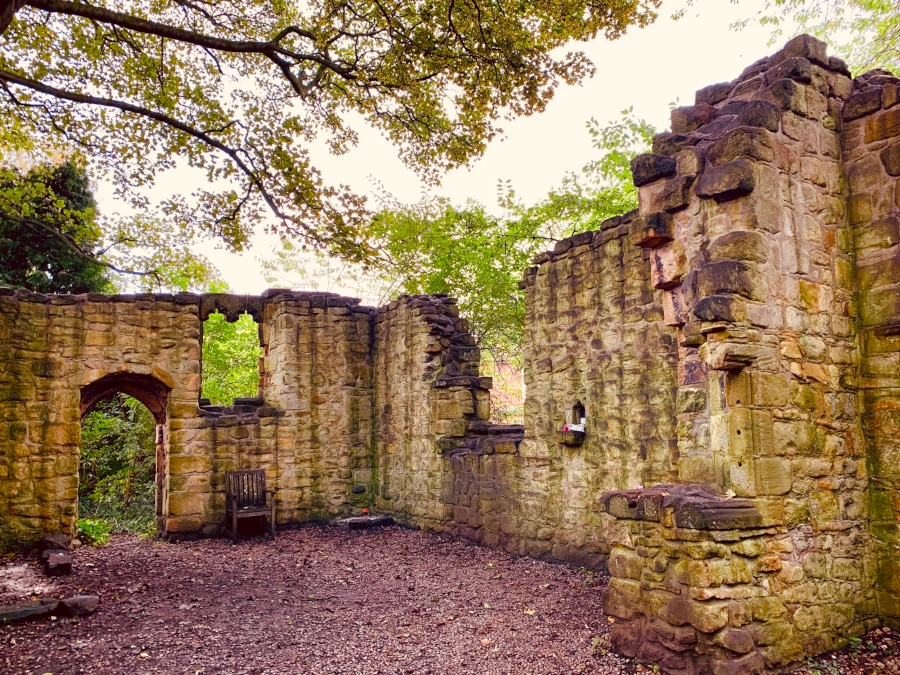 It's difficult not to have the tantalising thought this this page was from a prayer book which was being used in Tyneside in the medieval period – torn from the book for some unknown reason but kept for centuries by various people who admired its craftsmanship, its beauty and its message.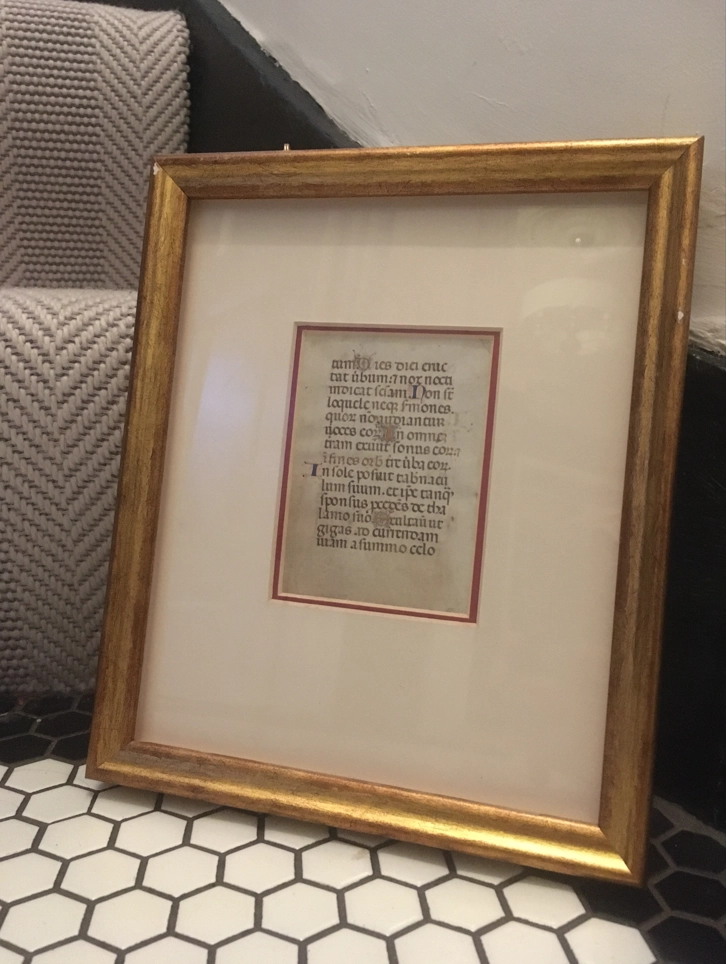 Never miss an article. Enter your email or give our FB page a like